WinePass!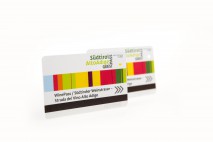 With the WinePass, your holiday on the South Tyrolean Wine Route will be an unforgettable experience. It opens the door to a fascinating world full of benefits.
The WinePass allows you to use all public transport throughout South Tyrol free of charge. With it you can explore the South Tyrolean natural landscape and experience the South Tyrolean Wine Route in all its facets.

The main services of the WinePass:
Unlimited use of public transport in South Tyrol.
These include:
Regional trains in South Tyrol (Brennero - Trento, Malles - San Candido)
Local buses (city, intercity and city buses)
The cable cars in Renon, Maransen, Colle, San Genesio, Meltina and Verano
The little train in Renon and the funicular to Mendola
Admission to around 90 museums, castles and collections in South Tyrol
as the Ötzi museum, Messner Mountain Museums, Castel Roncolo, the Wine Museum and many others.
Over 60 wine-related services (cellar visits, tastings, vineyard visits, wine seminars, thematic excursions ...) with a 50% discount
Recreational experiences:
2 entrances (Monday to Friday) in each of the following pools: with a 50% discount
Terlano swimming pool
Tramin sports and adventure pool
Monticolo Lake
Outdoor swimming pool in Ora
Lido of Egna
Minigolf Termeno, every day from 11am to midnight with a 50% discount (one admission per week)
High rope course in Caldaro, every day from 10 am to 6 pm with a 50% discount (one admission per week)
On your arrival at the Hotel at Lake Caldaro, you will be immediately given the Winepass (from 6 years of age).
Each single card is valid for 7 days, for each additional week of your holiday you will receive a new one.