Active holidays in Caldaro on the lake
Swimming, hiking, cycling, golf
Swimming in lake Caldaro:
A really nice footpath gets you easy access to the lake beaches in a 10 minutes walk. A variety of activities will keep you busy and active: swimming, sailing, surfing, pedal-boating or even just a bit of relax lying in the shade of the ancient trees on the lawn of the biggest swimming lake in South Tyrol.









Cycling by the lake Caldaro: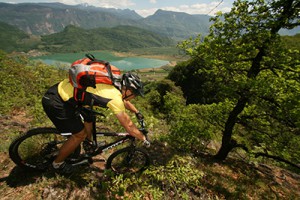 the Hotel is a favorite amongst bike aficionados. Great cycling routes and bike paths take to Merano, the Venosta Valley and Trento. You can explore the most suggestive and beautiful places on hired mountain- or E-bikes: fun and fitness in the south of South Tyrol. There is a vast selection of mountain-biking routes through mixed forests to castles and fortresses or through the vineyards towards Termeno. Roadies can test their stamina on the road to the Mendola pass. Riding the bike is also a very nice way to explore the picturesque villages of the Oltradige.
The Hotel Hasslhof offers a mountain- and E-bike hire service to its customers. Find here the information you require.



Excursions in the south of South Tyrol:
the Wine-Hotel Hasslhof is located in a particularly well protected position, tucked away under the mountain range of the Mendola which rises high in the west above lake Caldaro. The little and the big Göller, the Roen and the Penegal distinguish the mountain range. The historic cablecar of the Mendola takes you from Sankt Anton by Caldaro to the Mendola Pass (1360m). With a 12 minute journey and a max gradient of 64% this is the steepest and longest cable-car in Europe. The Mendola pass is the starting point of different hiking trails to the Penegal, the Roen and the plateau towards the "Val di Non" valley.
The area surrounding the lake of Caldaro offers a network of well marked hiking trails with a total length of approximately 200 km. Absolute favourites are the excursions to the Spring Valley, along the "Alta Via di Caldaro" (altitude road of Caldaro) that leads from Caldaro/Eppan through the subalpine forests up to Tramin/Kurtatsch, and the excursions to the castles of Eppan and the lakes of Monticolo.
Some fascinating excursion destinations can be reached straight from the Hotel Hasslhof:
Vineyard excursion in Caldaro through the Barleiter Valley
Trip to the Rastenbachklamm canyon
Hike along the "Path of Peace"
Excursion to the church of Sankt Jakob in Altenburg (1h)
Excursion to the ruins of the church of Sankt Peter in Altenburg (1h)
Hike around the lake of Caldaro (1 1/2h – 8km)
Excursion to the castle of Leuchtenburg
Golf in the South of South Tyrol:
Golf Club Monte San Pietro: 30 minutes from lake Caldaro, on the Mount Regolo is the 18 holes "Monte San Pietro Golf Club", at an altitude of 1200 m, right at the feet of the Dolomites.
Golf Club Dolomiti Sarnonico: this traditional 18 holes golf course is famous for its high degree of difficulty and stunning views over the Brenta Group.
Golfclub Lana: an excellent 9 holes set in the orchards of the Adige Valley